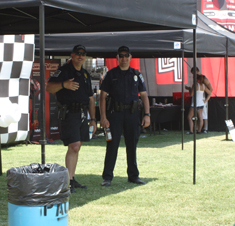 The NMSU Police Department routinely assists university groups and individuals in the planning, preparation, and staffing of various events on campus.  NMSU hosts countless events each year, and we provide traffic control and crowd management, police, and security services for many of these events.  In addition to coordinating athletic events such as football and basketball games, many different and sometimes unique events require our services.  To supplement its ranks, the NMSUPD also employs officers from surrounding law enforcement agencies to assist at events.
If your department is hosting an event you must register with the Campus Activities Office which will route your event through the Police Department for signature.  Outside or contracted security is not permitted.  Event requests are generally required at least two weeks in advance of the planned event.  There are a number of different criteria that dictate if security is needed, give us a call at 575-646-1838 to help you determine the needs for your event.
Specific event-related details can be found on our Event Info page.